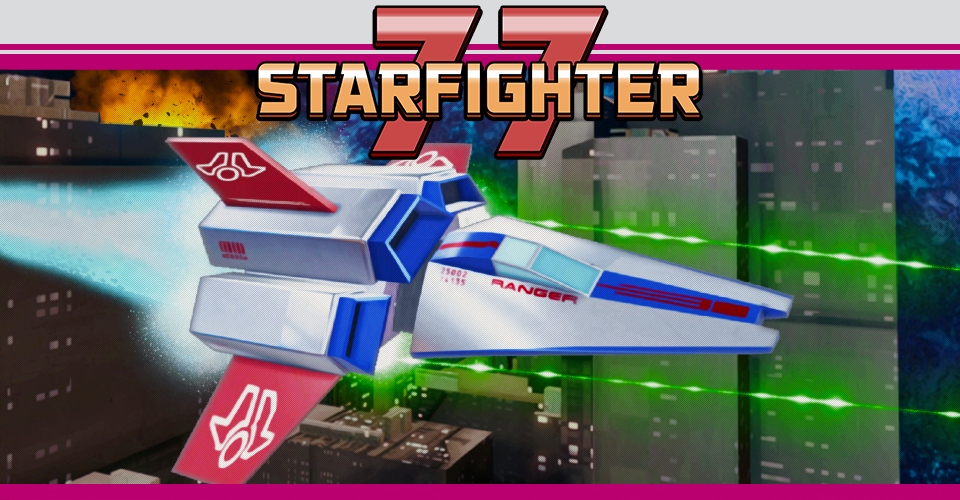 STARFIGHTER 77
Inspired by the best generation of video games Starfighter 77 is a nostalgia fueled love letter to the arcade games of the early 80's.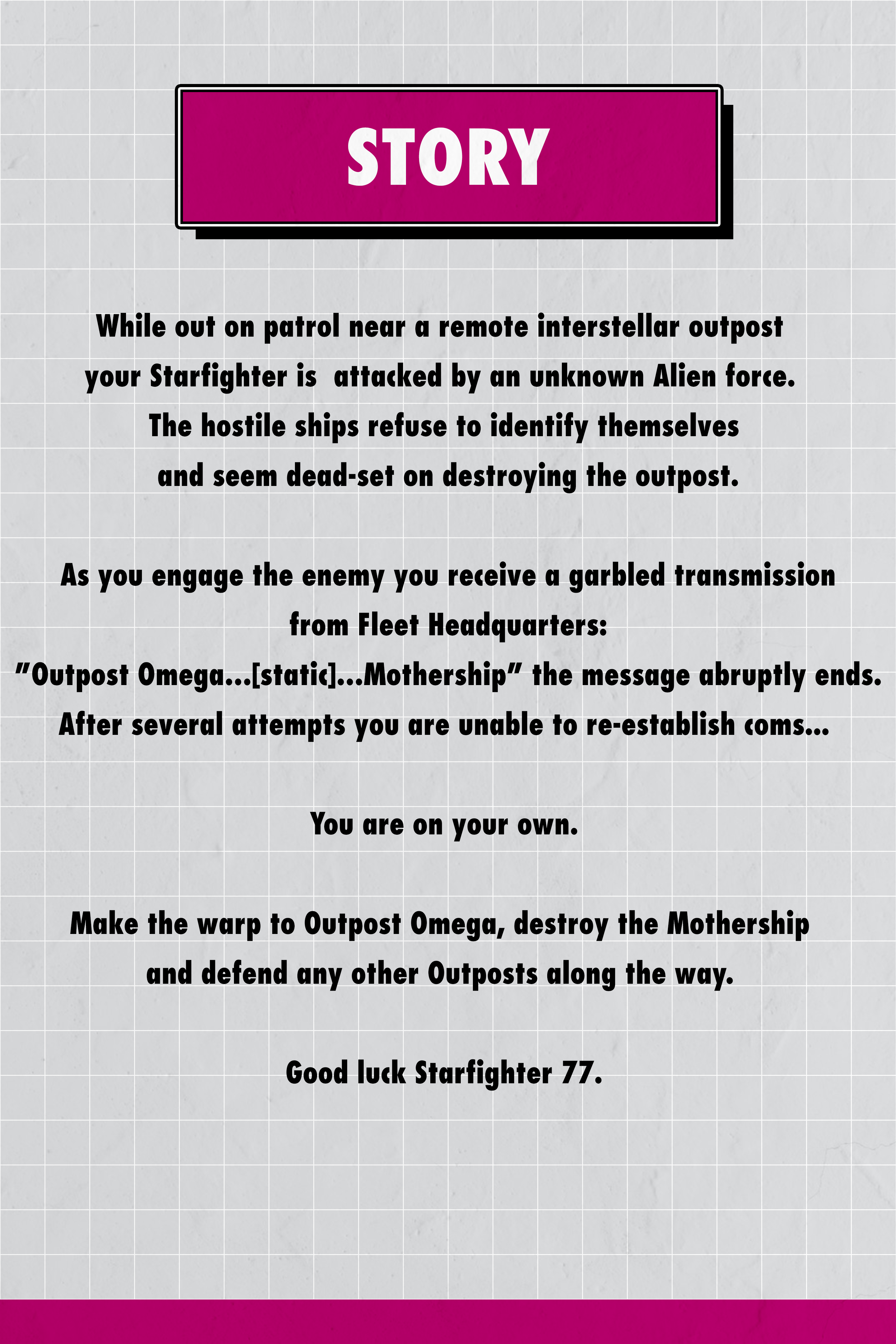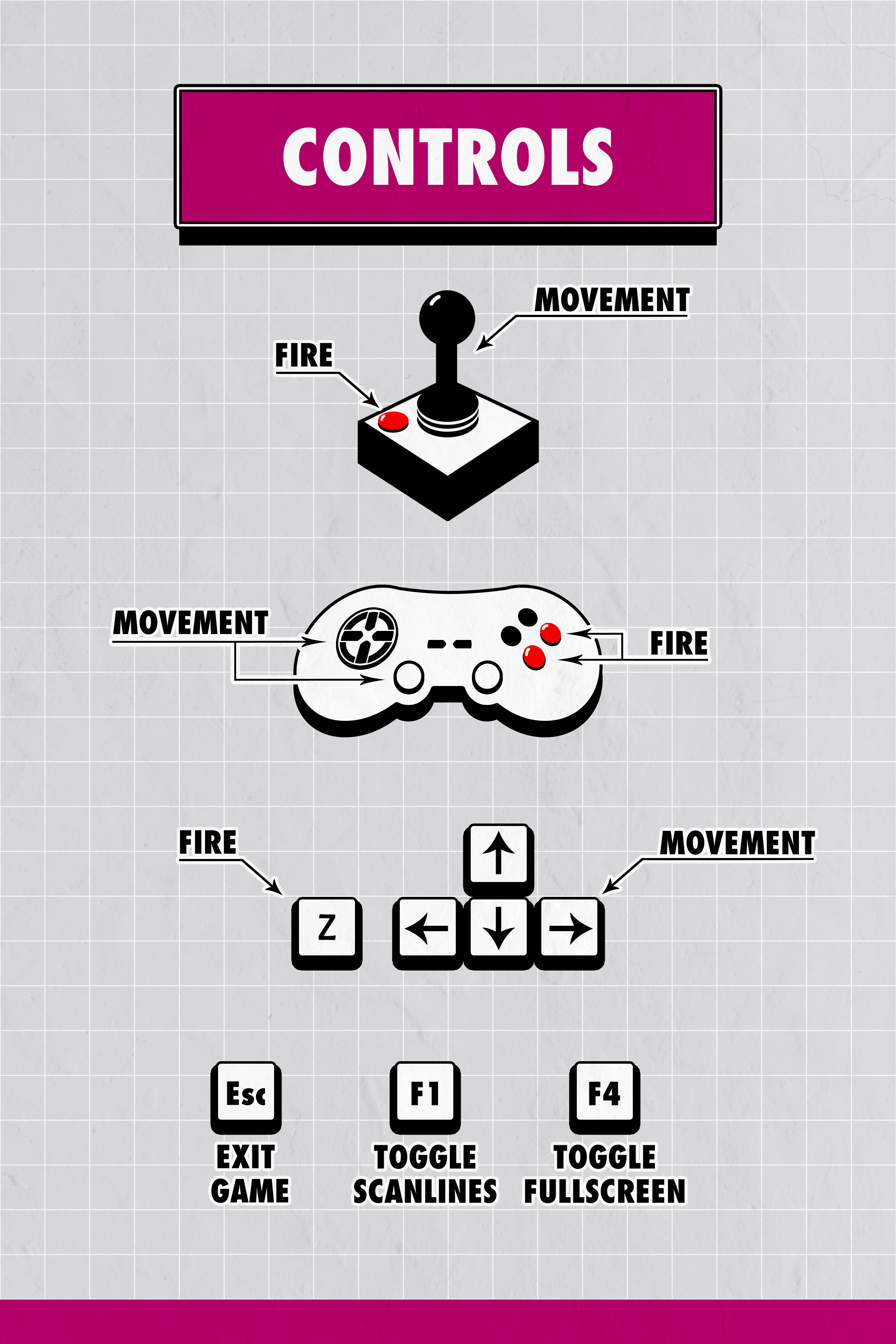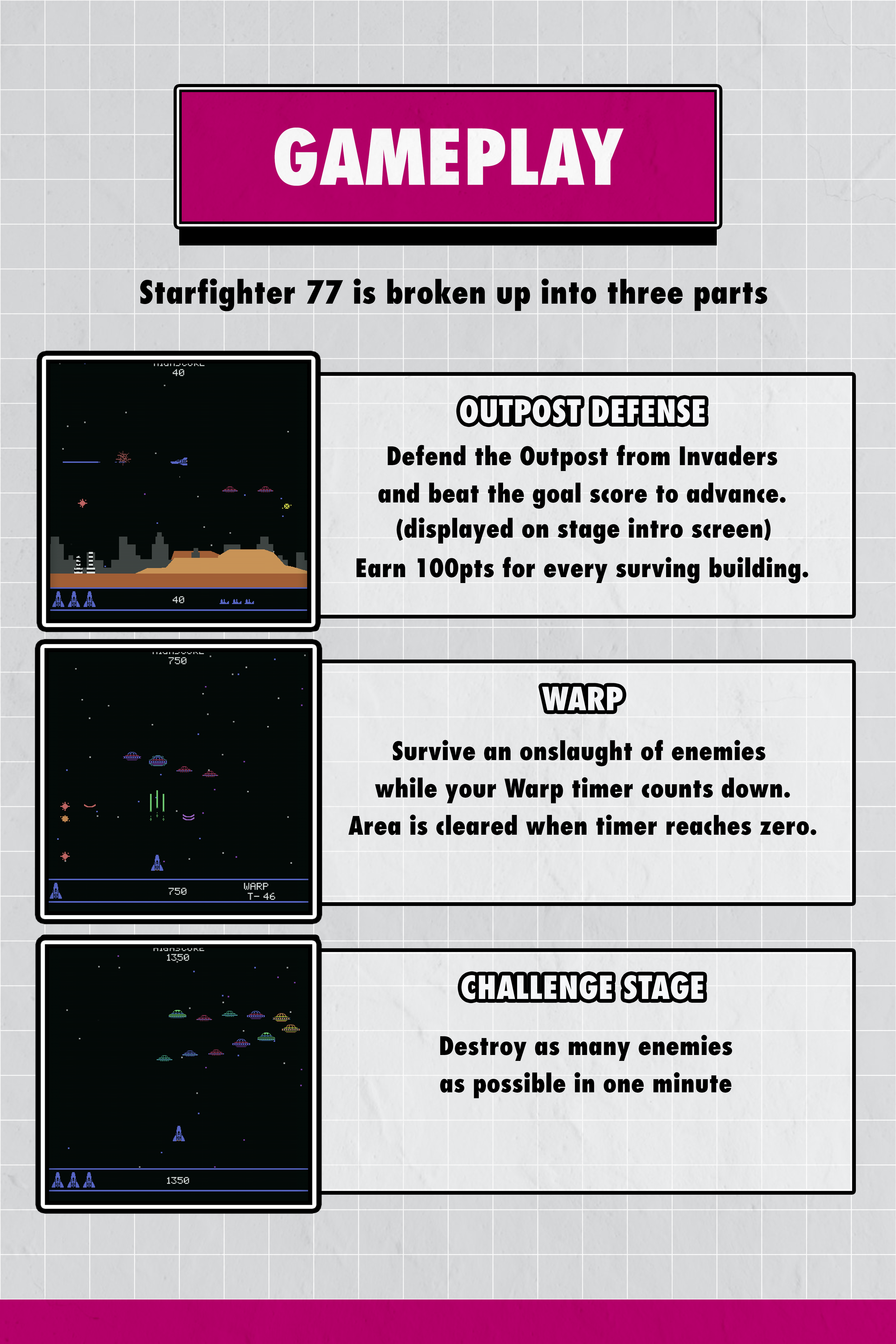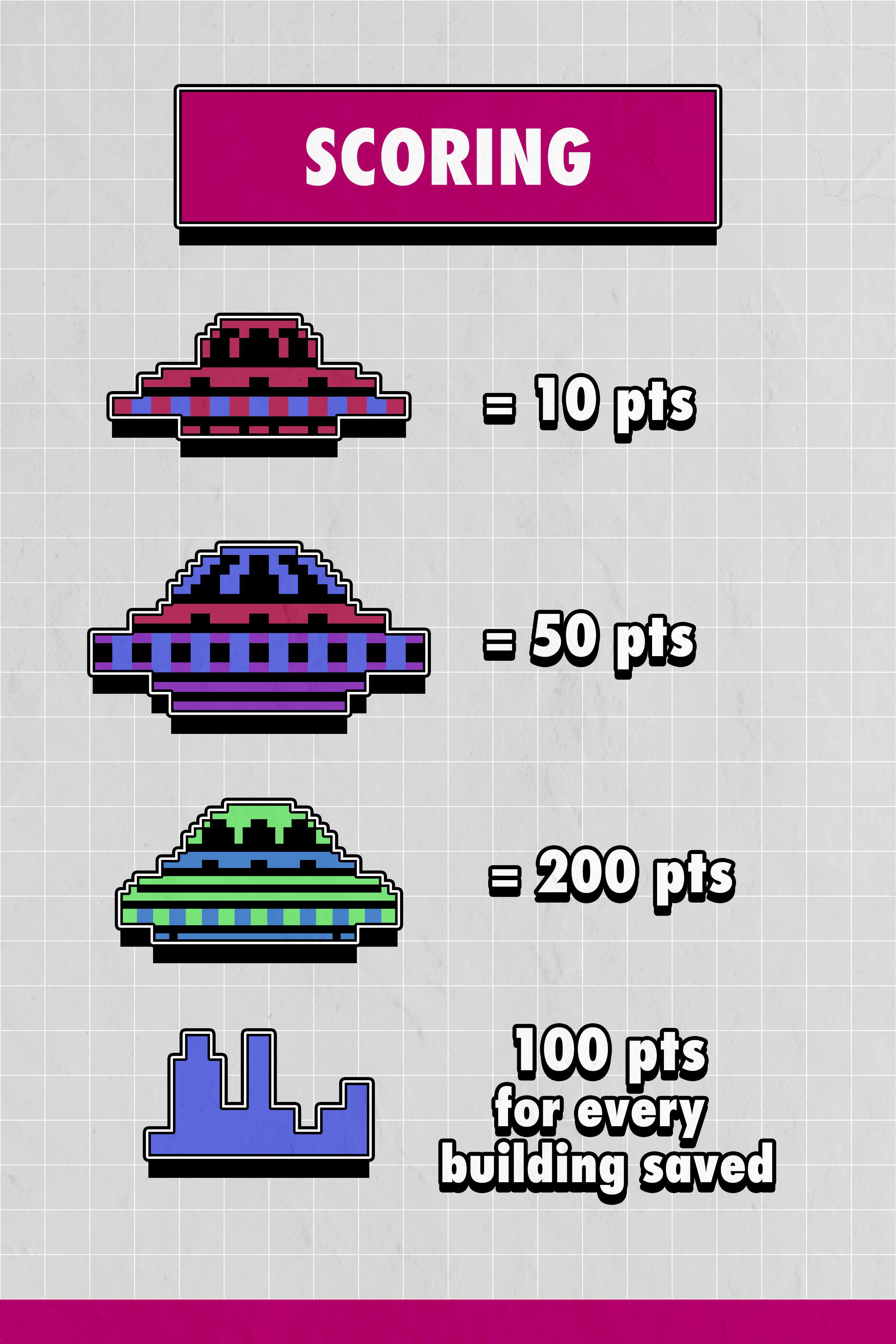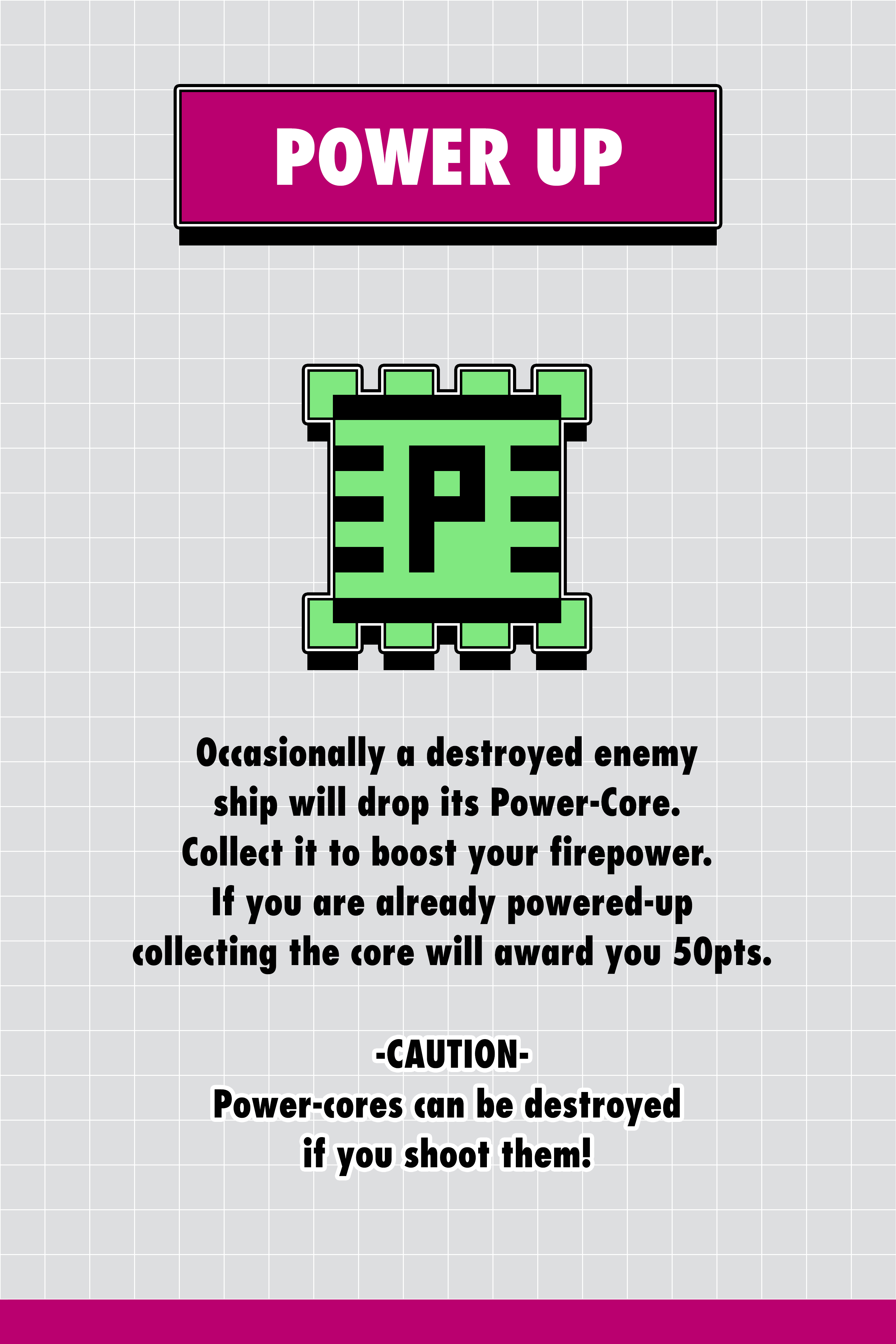 | | |
| --- | --- |
| Status | Released |
| Release date | Nov 19, 2019 |
| Author | papptimus |
| Genre | Shooter |
| Made with | GameMaker: Studio, Bfxr, Adobe Photoshop |
| Tags | 2D, Arcade, atari, Pixel Art, Retro, Shoot 'Em Up, Singleplayer, Space, Top down shooter |
| Code license | Artistic License 2.0 |
| Asset license | Creative Commons Attribution v4.0 International |
| Average session | About an hour |
| Languages | English |
| Inputs | Keyboard, Xbox controller, Gamepad (any), Joystick |
| Accessibility | High-contrast |
| Links | Community |
Download
Click download now to get access to the following files:
Comments
Log in with itch.io to leave a comment.
Where is the game manual located? Is it in the same zip file as the game itself?
When I start this game, I get two screens superimposed over each other. Then I press Esc to get out of the game, and it locks up my computer, and I have to do a hard reset. I have Windows 7 64-bit. Anyone else having this problem?
Windows 7 might not like the way I do the scanline effect. Does it still crash if you disable scanlines (F1) before exiting? Also which version are you using?
I just uploaded a new version further optimized for Win7 let me know if this fixes the issue.
Game looks great! But I am having a problem with controls. I am using a 2600-daptor with a Atari joystick. I can get horizontal movement and firing, but no vertical movement. Also the keyboard controls respond in the same way. Horizontal movement and firing work, but no vertical.
Thanks for bringing this to my attention, I'll look into the issue. I tested the controls using a Mayflash adapter. What adapter were you using and did you try the keyboard while the adapter was still connected?
The adapter is called the "2600-daptor" http://www.2600-daptor.com/.
I just tried it without the adapter plugged in and the keyboard controls started to work. So there must be a conflict with the 2600-daptor.
Thanks for the quick response.
I just released an update. Please let me know if this fixed the issuse with the 2600-daptor.
hi nice work but couldn't get it running on windows 7. Any suggestions? cheers
I just released an update. Please let me know if you are able to run the game on Windows 7.
Do you have a working version for MAC? Or can you recommend an emulator in which this will run?
When you say a license to publish, do you mean you don't have a Mac to write it on? You don't need a license to write software for the Macintosh, just a mac :-)
I meant that I don't have the Mac export module for Gamemaker:Studio(1), Apple developer account/certificates or a Mac to test and develop the game on. "License" just seemed an easier way to say it. It's a good point thought, I need to look into ways to make the game more accessible.
Sorry, I didn't understand you were using Gamemaker:Studio, thought you just coded it in C/C++.
Anyone get this to run a mac and confirm it works?
Thanks for sharing the video!